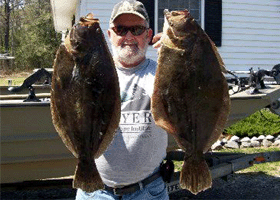 Captain Bruce Wootten
Over 27 years ago I started my guide service in fresh and salt water. It was my intention to show folks the best fishing charter they ever had and to keep rates affordable so anyone could enjoy the great Eastern Shore of Maryland and Virginia fishing. You will not find any other guide that offers so many great fishing options in fresh and salt water.
I treat you like family and still keep the lowest rates of any guide in Maryland and Virginia. I even furnish your fishing licenses for all tidal water charters for free and provide your ice to take your salt water catch home.
I specialize in taking bass tournament fisherman on Eastern Shore rivers to prepare for upcoming events, but take first time fisherman also. I like to say 'I teach fishing' and promise you will be a better fisherman after spending a day on my boat. Casting is essential to success and you will learn to cast better and pick up many new techniques that will help boost your catch on your future trips. Check out my web site for all the top quality trips I offer for large mouth bass on rivers or ponds and rockfish and flounder in the salt water.
___________________________________________________________________________________

Contact the Captain
captbrucew@gmail.com
6661 Snow Hill Road
Snow Hill, Maryland 21863
Phone 410-632-1431
Cell 410-251-9677