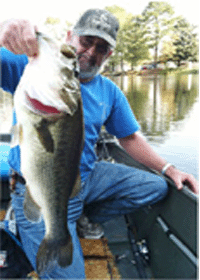 Captain-Guide Credentials
Any professional guide will gladly show you his Captain's License, Guide License, TWIC-ID Card, and proof of Commercial Insurance and Registration for their boat. These items are all required by law " to be on the boat". Guides also have to be enrolled in a random drug testing program and should be displaying a large yellow decal proving compliance for that year. Type 1 life jackets are required on all vessels carrying passengers for hire and many guides do not have them.

Try to book with full time guides and beware of guides that fish tournaments for they are reluctant to show you the good spots they save for competition.

We furnish your fishing license for all Maryland and Virginia charters and you will find this is rare in the trade and saves you money and the hassle of finding one on your own.

Most important- Ask for your total cost before agreeing to a charter to avoid costly surprises at the end of the day.
U.S. Coast Guard-25 gross ton Masters Captain License
Four Years Active Duty USCG Driving Rescue Boats
Boat Registered for Commercial Fishing - "guiding".
Fully Insured for Commercial Fishing - "guiding."
Full Compliance in Random Drug Testing Program
Three Years State Bass Fishing Team
Five Years Angler of the Year -- Club Level
Featured on ESPN -- Fly Fishing America
Appeared in Bassmaster Magazine
Red Cross, First Aid and CPR certified
Member National Association Charter Boat Operators
Enrolled - Transportation Worker Identification Credential
_______________________________________________________________________________________

Contact the Captain
captbrucew@gmail.com
6661 Snow Hill Road
Snow Hill, Maryland 21863
Phone 410-251-9677