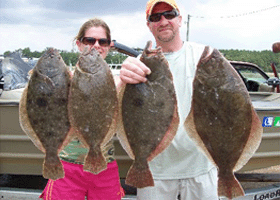 Watchapreague Virginia Flounder Fishing
Watchapreague Virginia is known as the the " flounder capital of the world" and for good reason. This place has loads of shallow flats that make ideal conditions for flounder. Wind is always a concern in flounder fishing and Watchapreague offers many options for picking an area with favorable wind to help with drift fishing.
We furnish all your bait, ice, tackle and even your fishing license at no extra cost on all flounder trips. These charters are six hours for two fishermen for $500 total.
Quinby Virginia Flounder Fishing
Quinby offers great flounder fishing with many different fishing areas available when different conditions like wind or water color are a concern.
Willis Wharf Virginia Flounder Fishing
Willis Wharf is such a small town some folks call it flounder fishing Exmore Virginia for the larger town close by. This is a great early season spot with lots of deeper water and rarely gets muddy water even in North East winds.
Gargathy Virginia Flounder Fishing
Gargathy is my favorite spot of all to fish for flounder but being a bit farther North the action starts later in the season. There a far less boats here but the ramps are in poor repair.
Chincoteague Virginia Flounder Fishing
The waters around this small island offer great flounder fishing but have more boat traffic and fishing pressure all summer long. This is a tourist spot and close to Assateague beaches so motels will be more expensive.
Ocean City Maryland Flounder Fishing
Ocean City is great fishing in May and June but after the tourist arrive with a million jet skis I prefer to fish the Eastern Shore of Virginia waters. We have had great days here but on windy days there are few good areas to fish to get a slow drift needed to catch flounder.
____________________________________________________________________________________________

Contact the Captain
captbrucew@gmail.com
6661 Snow Hill Road
Snow Hill, Maryland 21863
Phone 410-251-9677